bones bugs and botany nourishes liberation though transformational educational experiences.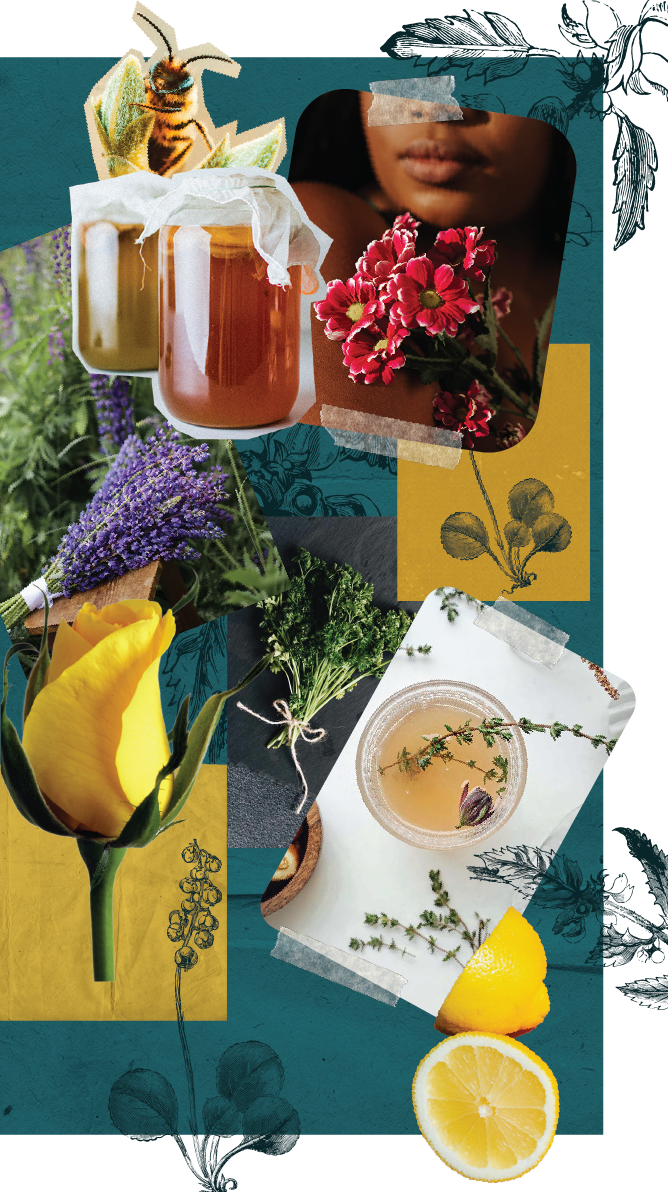 bones bugs and botany
our story
Bones Bugs and Botany is devoted to translating the pattern language of the earth and her people's culinary and herbal genius into simple, safe and effective interventions in healing through cutting edge educational modalities.
Through seasonal healing immersions, dynamic educational experiences, powerful writing, partnerships and personal mentorship, Asia helps those seeking embodied earth healing, wisdom and connection to have all of that and more.

Bones, Bugs and Botany is a healing tradition that combines ancestral culinary wisdom with exquisite herbal insights to enable a practice of a people's medicine that is safe, simple and effective.

The name itself is the exact tool that Asia used to regenerate her own body, mind and spirit. The name itself are a set of relationships that have allowed Asia to not only share the pattern languages of the earth but to speak that language from embodied wisdom and experience.

Bones, Bugs and Botany are tools that you too can use to experience embodied liberation. A liberation that isn't dependent on a politic but on your relationship to self. And everything that it takes, mentally, physically and spiritually for you to reclaim the wholeness that you already, always are.
Temporal

IS SELF

ask questions. make mistakes
and get messy!
Bones Bugs and Botany uses experiential, project-based learning. Within a safe container, our students have the opportunity to embody regenerative principles and practices that demystify earth-based healing. This allows us to know our medicines with the wisdom of our own experience and the truth of our own bodies.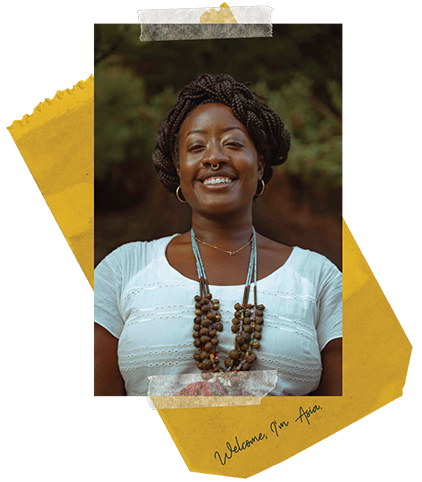 Meet asia.
TEACHER · STUDENT · HEALER · GUIDE
PASSION
Asia Dorsey was raised by a collective of radical aunties, uncles and her grandmother Betty Jo in the Historic Five Points community in Denver, the ancestral home of the Ute, Cheyenne and Arapahoe peoples.
Infused with the Jazz of the "Harlem of the West," Asia has developed new frontiers of healing and earth based relationship not through the erasure of the past and its peoples, but the melodious recombination, reintegration and regeneration of ancestral wisdoms.
But after years of working hard to bring about real change, Asia was left feelings depleted and unsure of what to do.
"I died for the cause. Decades of activism for the earth and her peoples left me burnt out depressed and immobolized.
Ta-Nahisi Coates in the banned text Between the World and Me had me understand there was a pattern language of destroying the black body and inspired me, through a commitment to protecting my precious body, by any means necessary to learn the pattern language of healing. I left activism, surrendered my sword and wrapped my arms around myself."
In her post-Activisms, Asia resurrected herself and her health through remineralization, living foods, and local weeds. She scaled her own healing to have greater impact though incorporating wellness and healing justice into various social movements, businesses and organizations.
Now Asia brings the healing she has learned to you through, her writings and liberated earth-based educational experiences.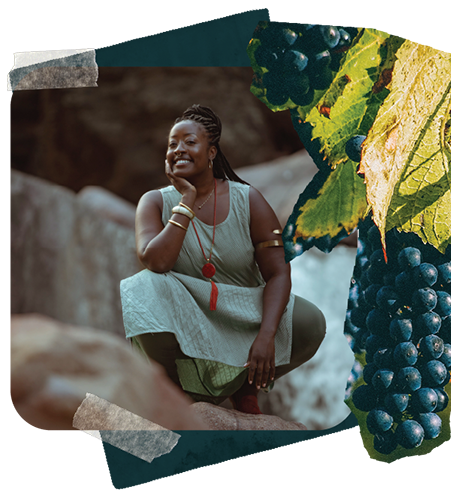 Education
Asia is an organizational consultant, educator and bioregional herbalist in Denver, Colorado. She attended New York University where she studied
Sociology
and Food Studies as an undergraduate.

In order to understand how to institutionalize social and ecological justice at the level of organization, she continued her education with graduate studies at the Wagner School of Public Service in 2014, where she
strengthened
her
experience
in nonprofit management.
To deepen her awareness of ecological design, Asia traveled to Australia to become a certified permaculture teacher and apprenticed at The Permaculture Research Institute of Australia with Geoff Lawton. With her ecological design practice in hand she developed regenerative fertilization systems while studying indigenous seed saving and Indian culinary genius at Navdanya International in Uttarakhand, India.

Asia took her tools with her to Accra, Ghana, where she studied global nutrition, traditional cuisine and food systems helping her discern global patterns of wellness and the specific adaptations of her West African peoples. She learned the deepest parts of her practice, apprenticing and exploring the science of traditional food and nutrient-dense regenerative agriculture with her beloved mentor Kay Baxter at the Koanga Institute in New Zealand.
REGENERATING bodies
After applying ecological design and her hard won ancestral knowledge to her own body to heal her from years of depression though the power of bones and bugs or probiotics foods, Asia inherited the Five Points Fermentation Company and learned the art of fermentation from Jain Chef Milian Doshi in 2016.
Asia created a model of regenerative, cooperatively organized business to heal the dysbiosis of society and the microbiomes of her people for years. As an artisan, Asia handcrafted exquisite, locally sourced, traditionally fermented foods and brews for grocery stores, restaurants, bars and everyday families. She built powerful microbial allyships mastering the traditional art of fermentation along the way.

Asia became curious about plant medicines or botany after her customers started reporting drastic improvements in their health from the herbs she used to flavor her creations. She then had a first-hand experience of using a plant medicine so expertly crafted by her beloved Sarah Shavel that it resolved the anxiety she gained from running a business. Asia embodied the miraculous ways that herbs worked and she wanted to both learn more about them and spread their gospel.

Asia uplifted lead organizer Sheree Brown in establishing the Ancestral Herbalism Healing Collective bringing in diverse healers and teachers from around Colorado leading with the notion that everything we need is already here. This introduction led to years of mentorship with elder herbalist Susun Weed accumulating in an apprenticeship in 2021. That same year, Asia and her best friend Karina Desroses founded the Petty Herbalist Podcast.
In 2022, Asia with her beloved mentor Lynn Till and a cohort of radical herbalists, witches and midwives organized Project Iroko a reproductive justice and herbal healing mutual aid society.

Asia deepened her health work completing her yoga teacher training in 2015. In 2019, with her belief in the ability of workers cooperatives to heal our economic system, Asia co-founded the Satya Yoga Cooperative for People of Color. In 2021, Asia became a certified Yoga Nidra instructor with Kamini Desai of the Amrit Yoga Institute. She and Satya founder, Lakshmi Nair have since trained multiple cohorts of yoga students in this ancestral meditation practice with a framework of Rest as Reparations.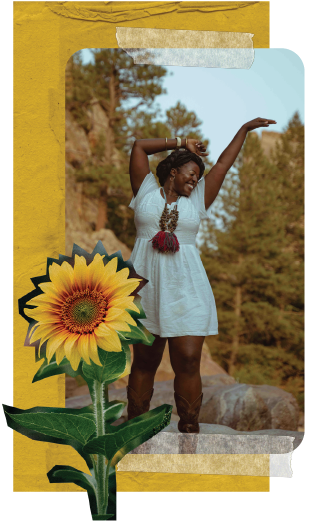 REGENERATING Communities and Organizations
Asia began her work as an organizer in grade school with an organization called Earth Force where she coordinated other young people and facilitated trainings around youth voice and environmental justice across the nation. In university she became a Kingian Nonviolence facilitator and trainer through the Center for Nonviolence & Peace Studies at the University of Rhode Island. She coordinated movement work around prison abolition, economic justice and food justice.
Asia was the Healing Justice Coordinator for the Grassroots Reparations Campaign in 2019 helping faith-based organizations remember their past, imagine new futures, and implement strategic efforts to heal the damage caused by racism.


As a reparationist, Asia has developed a reparations curriculum for reparations4slavery.com where she hosts the Healing Black Futures Podcast.
Asia has lectured and facilitated workshops at institutions such as Regis University, Denver University, University of Colorado at Boulder, The New School, The Denver Botanic Gardens, University of New Hampshire and many more. She is the organizer and facilitator of quirky and dope afrofuturist events like TimeCamp and is a proud collaborator of Black Quantum Futurism.

Asia has served on the board of Earth Force, Greenleaf Denver, Center for Community Wealth Building and the Denver Sustainable Food Policy Council.

Currently, Asia co-facilitates the Permaculture Design Course with the Regenerative Education Collective of Denver. To scale her impact, Asia brings all that she is, her professional experience and her knowledge the earth to her organizational consulting with Regenerate Change. She supports institutional change makers in building a more resilient food system. Asia weaves her various experiences into fun, practical toolkits, trainings and events that transform our relationship to our planet, our bodies and each other.
DIASPORIC AFRICAN DREAM ANTHOLOGY: GOD'S DREAM LEMON BALM
By Asia Dorsey | May 2021
What is the relationship between dreaming and the body? How can Lemon Balm shape our relationship to time?
Zones of Sacrifice: Nature Will Defend Itself, Even Against Us

What is the will of the earth? This essay explores the concept of environmental zones of sacrifice in deep relationship to Mullein and the grief of the lungs.
Tilt West Journal: Blending and Belonging with Yellow Dock
By Asia Dorsey | December 2020
This intimate essay uses the lens of Yellow Dock to reimagine belonging.
Edge Effect: Breathing and Grieving with Yellow Dock
By Asia Dorsey | December 2020
This essay on Yellow Dock, grief, and healing is the eighth piece in the 2020 Visions: Imagining (Post-) COVID Worlds series, which aims to reflect on the uneven impacts of the "pandemic year" and to consider new futures that might be made possible in its wake. Series editors: Weishun Lu, Juniper Lewis, Richelle Wilson, and Addie Hopes.
PUBLIC SPEAKING + APPEARANCES
WARM COOKIES OF THE REVOLUTION: Community Almanac 4 Health & Leaves
New School, Vera List Center: Bending SpaceTime with Botanicals
Warm Cookies of the Revolution: Community Almanac Volume 1 Housing
Warm Cookies of the Revolution: Community Almanac Volume 2 Climate
Herbstalk: 2021 Brown Alliance: Bioregional Herbalism
Earthlinks: Imagine 2020 Keynote Address
Emergence Network:
Herbal Medicine, Embodied Sovereignty and Afrofuturism
Empty space, drag to resize
THE HEALING BLACK FUTURES PODCAST
With Asia Dorsey and Lotte Dula
Empty space, drag to resize
Healing Black Futures is a podcast for Black and white reparationists alike, dedicated to exploring both our shared history of oppression as well as the liberatory path forward. As part of our education series, Modern Vectors of Economic Transformation, each episode explores a single topic and features Black activists on the cutting edge of repair. Many episodes also feature advice for white reparationists wishing to invest in direct repair. Hosted by herbalist Asia Dorsey, who co-developed the Modern Vectors curriculum with Lotte Lieb Dula.
Empty space, drag to resize
Empty space, drag to resize
healing black futures podcast featured episode:
Reparations and financial justice: With Enith Williams
Financial justice is an important element of the movement for reparations, given this country's history of slavery and the many years of Black codes and Jim Crow laws, which effectively blocked Black economic progress for generations. As a result, Black wealth is now just 1/10th that of white wealth.
Now, financial advisors are developing reparative strategies to heal our capital markets of these structural inequities. Repairing what's broken requires both an understanding of current finance, banking and credit policy as well as grounding in an afro-futuristic vision of what's possible.


Our guest today is Enith Williams, Founder and Managing Director of the Reparations Finance Lab, a financial service non-profit that seeks to engage capital markets to design innovative financial products and processes that will deliver Reparative Capital to the descendants of the Transatlantic Slave Trade.
Listen:
Latest podcast episodes:
REPARATIONS, TRANSPORTATION + INFRASTRUCTURE WITH KRISTEN JEFFERS
Transportation and Infrastructure justice is an important element of the movement for reparations, given this country's history of bisecting and destroying communities of color through the construction of highways, light rail and other transportation systems. Now, generations later, Black urbanists are bringing a reparative lens...
Our guest today is Black Urbanist Kristen Jeffers.
REPARATIONS, LIBERATION AND BLACK SPIRITUAL TRADITIONS WITH JOY TABERNACLE KMT
Restoring Black access to indigenous African spiritual traditions is an important element of the movement for reparations, given this country's history of using faith to subjugate Black people during and after the enslavement era. Repairing what's broken requires both an understanding of this history as well as a vision of the liberation that's possible when African spiritual traditions are restored.
Our guest today is ritualist, healer and poet Joy Tabernacle Kmt.
REPARATIONS, AFRO-FUTURISM AND HOUSING JUSTICE WITH RASHEEDAH PHILLIPS
Housing justice is an important element of the movement for reparations, given this country's history of housing discrimination, including redlining, credit and appraisal fraud, blockbusting and many other discriminatory practices. Repairing what's broken requires both an understanding of current housing policy as well as grounding in an afro-futuristic vision of what's possible.
Our guest today is Rasheedah Phillips.
Follow The Healing Black Futures Podcast